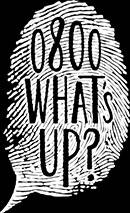 Description
www.whatsup.co.nz
Call: 0800 WHAT'S UP (0800 942 8787)
We are now open from 11 am - 11 pm for our phone service (0800 942 8787).
Our online chat service is open from 11 am - 10.30 pm.
We are open every day of the week, 365 days of the year. Including public holidays.
Kidsline is now part of 0800 what's up so both have the same contact numbers and opening hours.
If you have any questions or queries, please email us on whatsup@barnardos.org.nz